This has been submitted to the Colorado Marijuana Enforcement Agency with a Request for a Religious Manufacturers Licence (I have a meeting with them Nov 9th, 2017) which they didn'tunderstand was a thing until after they called
Burwell v. Hobby Lobby Stores, Inc.
573 US ___ (2014)
42 U.S. Code § 2000bb
(b)PurposesThe purposes of this chapter are—
(1)
to restore the compelling interest test as set forth in Sherbert v. Verner, 374 U.S. 398 (1963) and Wisconsin v. Yoder, 406 U.S. 205 (1972) and to guarantee its application in all cases where free exercise of religion is substantially burdened; and
(2)
to provide a claim or defense to persons whose religious exercise is substantially burdened by government
Executive Order on Religious Freedom from President Trump
https://www.whitehouse.gov/the-press-office/2017/05/04/presidential-executive-order-promoting-free-speech-and-religious-liberty
Section 1.
Policy.
It shall be the policy of the executive branch to vigorously enforce Federal law's robust protections for religious freedom.  The Founders envisioned a Nation in which religious voices and views were integral to a vibrant public square, and in which religious people and institutions were free to practice their faith without fear of discrimination or retaliation by the Federal Government.  For that reason, the United States Constitution enshrines and protects the fundamental right to religious liberty as Americans' first freedom.  Federal law protects the freedom of Americans and their organizations to exercise religion and participate fully in civic life without undue interference by the Federal Government.  The executive branch will honor and enforce those protections.
Amendment 64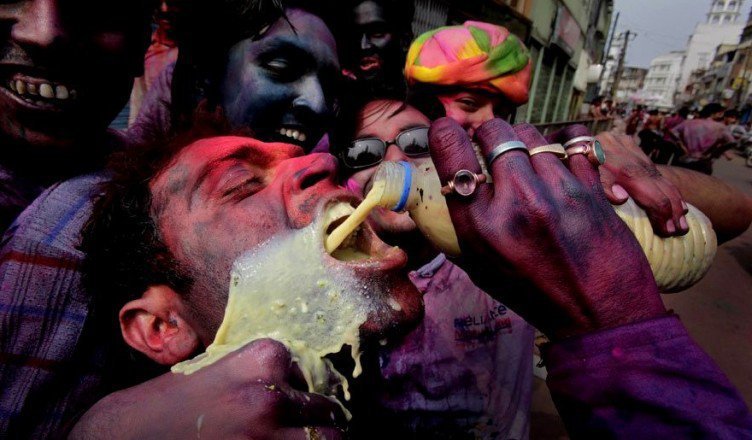 Colorado Marijuana Code
The Colorado Marijuana Code completely ignores Religion, as it has not been brought up yet in this Context.
Colorado State Constitution
Article XVIII
Amendment 64
(1)
(a) IN THE INTEREST OF THE EFFICIENT USE OF LAW ENFORCEMENT RESOURCES, ENHANCING REVENUE FOR PUBLIC PURPOSES, AND INDIVIDUAL FREEDOM, THE PEOPLE OF THE STATE OF COLORADO FIND AND DECLARE THAT THE USE OF MARIJUANA SHOULD BE LEGAL FOR PERSONS TWENTY-ONE YEARS OF AGE OR OLDER AND TAXED IN A MANNER SIMILAR TO ALCOHOL.
(2)
Definitions.
AS USED IN THIS SECTION, UNLESS THE CONTEXT OTHERWISE REQUIRES,
(h) "MARIJUANA CULTIVATION FACILITY" MEANS AN ENTITY LICENSED TO CULTIVATE, PREPARE, AND PACKAGE MARIJUANA AND SELL MARIJUANA TO RETAIL MARIJUANA STORES, TO MARIJUANA PRODUCT MANUFACTURING FACILITIES, AND TO OTHER MARIJUANA CULTIVATION FACILITIES, BUT NOT TO CONSUMERS.
(i) "MARIJUANA ESTABLISHMENT" MEANS A MARIJUANA CULTIVATION FACILITY, A MARIJUANA TESTING FACILITY, A MARIJUANA PRODUCT MANUFACTURING FACILITY, OR A RETAIL MARIJUANA STORE.
(m) "MEDICAL MARIJUANA CENTER" MEANS AN ENTITY LICENSED BY A STATE AGENCY TO SELL MARIJUANA AND MARIJUANA PRODUCTS PURSUANT TO SECTION 14 OF THIS ARTICLE AND THE COLORADO MEDICAL MARIJUANA CODE.
Notice that is says that it should be Regulated like Alcohol, in accordance with the will of the people of Colorado, so here is the Colorado Alcohol Code's rules about Religion.
Colorado Alcohol Code
ARTICLE 47, TITLE 12, C.R.S.
Part I- General Provisions
12-47-106
Exemptions.
(1)
The provisions of this article shall not apply to the sale or distribution of sacramental wines sold and used for religious purposes.
And in the Federal Code right now, there is a Tax Exemption for Cider that is Produced and Sold without Bubbles and not called Wine. It can be found under USC Title 26, S 5042, (a), (1).
If Marijuana is going to be Regulated like Alcohol, then Sale, Distribution and Use of Religious Marijuana can not be taxed. And this is not even a stretch to say that Religion should not be taxed, that is simply the way it works. The case Walz v. Tax Comm'n of City of New York 397 U.S. 664 (1970), set the standard that has since then been followed.
https://supreme.justia.com/cases/federal/us/397/664/case.html
And if we look at the Volstead Act, the Act of Congress which made Alcohol Prohibition (the 18th Amendment) an actual Enforced Law; the Volstead Act included Religious Exemptions for Alcohol use. You can not stop people from using their Sacraments, Celebrating their Festivals, and Consuming the Body of their Lords and Saviors.
http://mdk12.msde.maryland.gov/instruction/curriculum/social_studies/ne/ne_volstead.pdf
And we all know about the 1st Amendment Religious Protections, but with all this other Evidence that shouldn't even be necessary to bring up.
DEA Form 225
Schedule I substances are not enough to bar a substance from Religious Use. The wording they used is that calling a substance Schedule I as an argument against Religious use "can not carry the day".
https://supreme.justia.com/cases/federal/us/546/418/
Laws must be Neutral and can not Overtly or Covertly ban Religions. The DEA allows large corporations to Manufacture, Import and Posses Schedule I and II Substances using DEA form 225, protocol can be found in 21 CFR 1301.18, the Constitution allows the regulation of Commerce, but not the Regulation of Religion. The Controlled Substances Act is not a Neutral Law.
https://supreme.justia.com/cases/federal/us/508/520/case.html
http://law.justia.com/cases/federal/appellate-courts/cadc/02-1211/02-1211a-2011-03-24.html
Cannaninoids have been proven to have various uses, such as reducing edema, but Hospitals even in Medical Marijuana States are unwilling to use Marijuana products on patients. Doctors are either Unable or Unwilling to retrieve Cannabinoids for this purpose due to the current operations of the DEA. The University of Mississippi was a protected Monopoly until August 2016 for Marijuana, at which time the DEA admitted it was allowing this Monopoly and opened up registration to more companies. Mallinckdrot has been allowed to Synthesize Tetrahydrocannabinoids (THC derivatives) but, due to this Gerrymandering, Hospitals do not have access.
https://www.federalregister.gov/documents/2016/08/12/2016-17955/applications-to-become-registered-under-the-controlled-substances-act-to-manufacture-marijuana-to
https://www.deadiversion.usdoj.gov/fed_regs/manufact/reg/2016/index.html
https://www.deadiversion.usdoj.gov/fed_regs/imprt/app/2016/index.html
https://www.justice.gov/atr/memorandum-antitrust-division-united-states-department-justice-amicus-curiae-support-application
Religious Rights
1st Amendment:
Congress shall make no law respecting an establishment of religion, or prohibiting the free exercise thereof; or abridging the freedom of speech, or of the press; or the right of the people peaceably to assemble, and to petition the Government for a redress of grievances.
42 U.S. Code § 2000bb – Congressional findings and declaration of purposes
(a)FindingsThe Congress finds that—
(1)
the framers of the Constitution, recognizing free exercise of religion as an unalienable right, secured its protection in the First Amendment to the Constitution;
(2)
laws "neutral" toward religion may burden religious exercise as surely as laws intended to interfere with religious exercise;
(3)
governments should not substantially burden religious exercise without compelling justification;
(4)
in Employment Division v. Smith, 494 U.S. 872 (1990) the Supreme Court virtually eliminated the requirement that the government justify burdens on religious exercise imposed by laws neutral toward religion; and
(5)
the compelling interest test as set forth in prior Federal court rulings is a workable test for striking sensible balances between religious liberty and competing prior governmental interests.
(b)PurposesThe purposes of this chapter are—
(1)
to restore the compelling interest test as set forth in Sherbert v. Verner, 374 U.S. 398 (1963) and Wisconsin v. Yoder, 406 U.S. 205 (1972) and to guarantee its application in all cases where free exercise of religion is substantially burdened; and
(2)
to provide a claim or defense to persons whose religious exercise is substantially burdened by government.
42 U.S. Code § 2000bb–1 – Free exercise of religion protected
(a)In general
Government shall not substantially burden a person's exercise of religion even if the burden results from a rule of general applicability, except as provided in subsection (b).
(b)ExceptionGovernment may substantially burden a person's exercise of religion only if it demonstrates that application of the burden to the person—
(1)
is in furtherance of a compelling governmental interest; and
(2)
is the least restrictive means of furthering that compelling governmental interest.
(c)Judicial relief
A person whose religious exercise has been burdened in violation of this section may assert that violation as a claim or defense in a judicial proceeding and obtain appropriate relief against a government. Standing to assert a claim or defense under this section shall be governed by the general rules of standing under article III of the Constitution.
Before Indian Independence during the time of Gandhi, India was a British Colony, and the British Empire did the largest most comprehensive study of Marijuana use and the Impact of Marijuana use on Society, and concluded that it was harmless, and decided to legalize it and tax it. This study included everyone from Marijuana prescribing Doctors and Marijuana using Patients and Gurus, to Hash smugglers and Crazy people. It is so large and comprehensive that it is actually comprised of many Volumes, like an Encyclopedia or Lawbook set.
http://digital.nls.uk/indiapapers/browse/pageturner.cfm?id=74908458
"The term "religious exercise" includes any exercise of religion, whether or not compelled by, or central to, a system of religious belief", see 42 U.S. Code § 2000cc–5 (7) (a). "the general characteristics of Schedule I substances cannot carry the day", see Gonzales v. O Centro Espírita Beneficente União do Vegetal 546 U.S. 418 (2006); Church of Holy Light of the Queen V. Eric Holder, Jr., No. 13-35058 (9th Cir. 2014). "Congress must first enact a law criminalizing an activity, attach a penalty, and give the Federal courts Jurisdiction", see Hudson v. United States 522 U.S. 93 (1997). "Congress shall make no laws prohibiting the Free Exercise of Religion", see FREE EXERCISE CLAUSE, I AMENDMENT. "If a Government confronts an individual with a choice that pressures the individual to forgo a Religious practice, whether by imposing a penalty or withholding a benefit, then the Government has burdened the individuals free Religious Exercise.", see Sherbert v. Verner 374 U.S. 398 (1963).  "Even neutral laws can be used unconstitutionally", see Yick Wo v. Hopkins 118 U.S. 356 (1886); 42 U.S. Code § 2000bb (a) (2). "failing to accommodate petitioners' exercise of their "nonmainstream" religions in a variety of ways", see Cutter v. Wilkinson, 544 U.S. 709 (2005). "conduct business in accordance with their religious beliefs", see Burwell v. Hobby Lobby Stores, Inc. 573 U.S. _ (2014).
Land Use Regulations
42 U.S. Code § 2000cc – Protection of land use as religious exercise
(a)Substantial burdens
(1)General ruleNo government shall impose or implement a land use regulation in a manner that imposes a substantial burden on the religious exercise of a person, including a religious assembly or institution, unless the government demonstrates that imposition of the burden on that person, assembly, or institution—
(A)
is in furtherance of a compelling governmental interest; and
(B)
is the least restrictive means of furthering that compelling governmental interest.
42 U.S. Code § 2000cc–3 – Rules of construction
(g)Broad construction
This chapter shall be construed in favor of a broad protection of religious exercise, to the maximum extent permitted by the terms of this chapter and the Constitution.
42 U.S. Code § 2000cc–5 – Definitions
(5)Land use regulation
The term "land use regulation" means a zoning or landmarking law, or the application of such a law, that limits or restricts a claimant's use or development of land (including a structure affixed to land), if the claimant has an ownership, leasehold, easement, servitude, or other property interest in the regulated land or a contract or option to acquire such an interest.
(7)Religious exercise
(A)In general
The term "religious exercise" includes any exercise of religion, whether or not compelled by, or central to, a system of religious belief.
(B)Rule
The use, building, or conversion of real property for the purpose of religious exercise shall be considered to be religious exercise of the person or entity that uses or intends to use the property for that purpose.
Colorado Bill of Rights
Section 1. Vestment of Political Power
Section 3. Inalienable Rights
Section 4. Religious Freedom
Section 24. Right to assemble and petition
Section 28. Rights reserved not disparaged
Right to Act
Follet V Town of McCormick
Pierce V Society of Sisters
Larson V Valente
Largent V Texas
Tract Society of New York V Village of Stratton
Busey V District of Columbia
Fowler V Rhode Island
Niemotko V Maryland
Murdock V Pennsylvania
United States V Lee
Marsh V Alabama
Lloyd Corp V Tanner
Court shall not rule on doctrine
United States V Ballard
Presby Church V Hull Curch
Healy V James
"The Advancement of Beliefs and Ideas"
NAACP V Alabama
Dispersal of peaceful Crowds or Gatherings is Illegal
Edwards V South Carolina
Brown V Louisiana
Cox V Louisiana
Carroll V Town of Princess Anne
Federal Rights in States
Cantwell V Connecticut
Everson V Board of Education
Lynch V Donnelly
Pruneyard Shopping Center V Robins
Non-Abrahamic Religions
Cruz V Beto
Cutter V Wilkinson
Growing a Beard as Religious Practice
Holt V Hobbs
Police V City of Newark
Bringing Cases on States that act Unconstitutionally
Ex Parte Young